Boneless chicken thigh chunks, seasoned, breaded, fully cooked. Mustard and whiskey sauce included.
Chicken Chunks
Chicken thighs, Water, Wheat flour, Canola and/or soybean oil, Whole wheat flour, Modified potato starch, Salt, Spices, Sodium phosphate, Baking powder, Granulated garlic, Potassium chloride, Chicory root Inulin, Corn starch, Tapioca dextrin, Modified cellulose, Spice extract, Natural flavour.
CONTAINS: Wheat.
MAY CONTAIN: Milk, Soy, Eggs.
Mustard & Whisky Sauce
Sugars (sugar/glucose-fructose, brown sugar), Water, Vinegar, Mustard, Tomato paste, Modified corn starch and/or modified potato starch and/or modified tapioca starch, Natural flavour, Salt, Seasoning, Chili peppers, Canola oil, Bourbon extract, Garlic powder, Onion powder, Spices, Caramel, Xanthan gum, Whisky, Sodium benzoate, Potassium sorbate.
CONTAINS: Mustard.
Chicken Chunks
CONTAINS: Wheat. May contain: Milk, soy, Eggs.
Mustard & Whisky Sauce
CONTAINS: Mustard.
VERIFIED FOR: nuts, peanuts, sesame seeds, wheat, eggs, milk, soybeans, crustaceans, shellfish, fish, mustard seeds, sulphite (≥10 ppm) and gluten sources (barley, oat, rye, triticale, wheat)
Nutritional values
Per 2 chunks (100 g)
Calories
230
% Daily Value*
* 5% or less is a little, 15% or more is a lot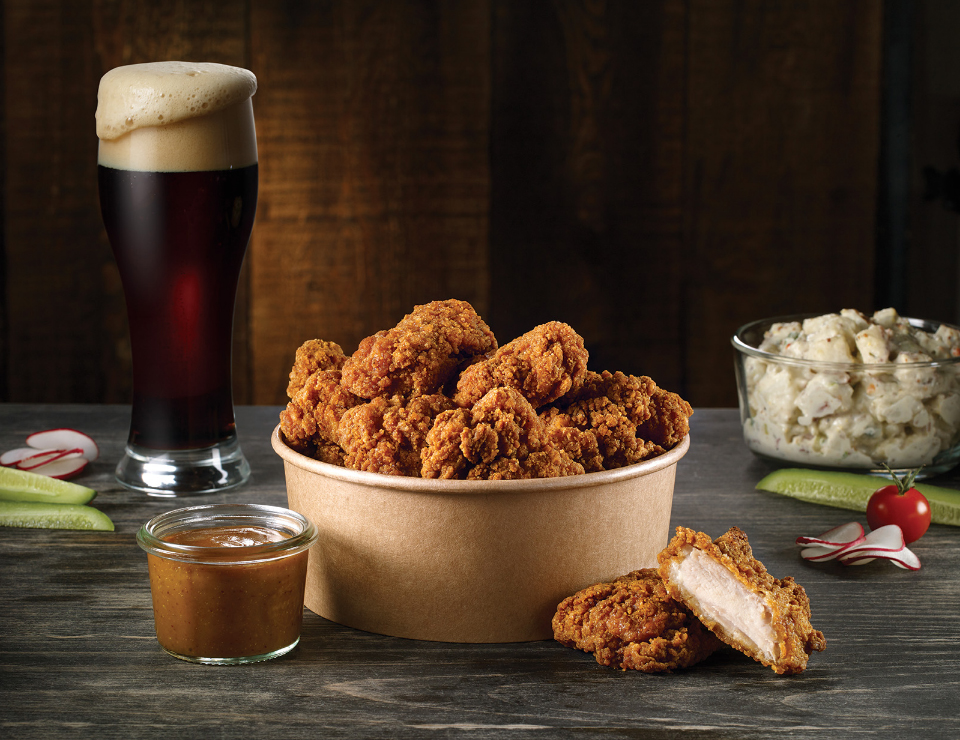 Conventional
Preheat oven to 232°C (450°C). Place frozen chicken chunks on a baking sheet covered with parchment paper and bake for 25-30 minutes. Turn halfway through cooking.
Air Fryer
Preheat to 200°C (390°F). Place frozen chicken chunks in the basket. Heat for 15 minutes, turning over halfway through time. *This is only a guide. Cooking time may vary according to type and model of appliance used.