Chicken burgers, breaded, fully cooked. Ranch sauce included.
Gluten free
No artificial colours or flavours
Chicken Burgers
Chicken, Water, Rice flour, Yellow corn flour, Canola and/or soybean oil, Modified corn starch, Soy protein isolate, Salt, Corn starch, Sugars (sugar, dextrose), Potassium chloride, Spices, Rice starch, Pea protein product, Baking powder, Garlic powder, Granulated roasted garlic, Toasted onion powder, Natural flavour, Guar gum, Methylcellulose, Celery seed, Yeast, Spice extractives.
CONTAINS: Soy
Ranch Sauce
Water, Soybean oil, Vinegar, Frozen egg yolk, Modified corn starch and/or modified potato starch and/or modified tapioca starch, Sugar, Salt, Modified milk ingredients, Mustard, Garlic powder, Onion powder, Natural flavours (milk, yeast extract), Spices, Seasoning, Soy lecithin, Citric acid, Polysorbate 60, Titanium dioxide, Xanthan gum, Guar gum, Monosodium glutamate, Sodium alginate, Disodium inosinate and guanylate, Potassium sorbate, Sodium benzoate, Calcium disodium EDTA.
CONTAINS: Egg, Milk, Mustard, Soy.
CONTAINS: Soy, Egg, Milk, Mustard
VERIFIED FOR: nuts, peanuts, sesame seeds, wheat, eggs, milk, soybeans, crustaceans, shellfish, fish, mustard seeds, sulphite (≥10 ppm) and gluten sources (barley, oat, rye, triticale, wheat)
Nutritional values
Per 1 burger (100 g)
Calories
230
% Daily Value*
* 5% or less is a little, 15% or more is a lot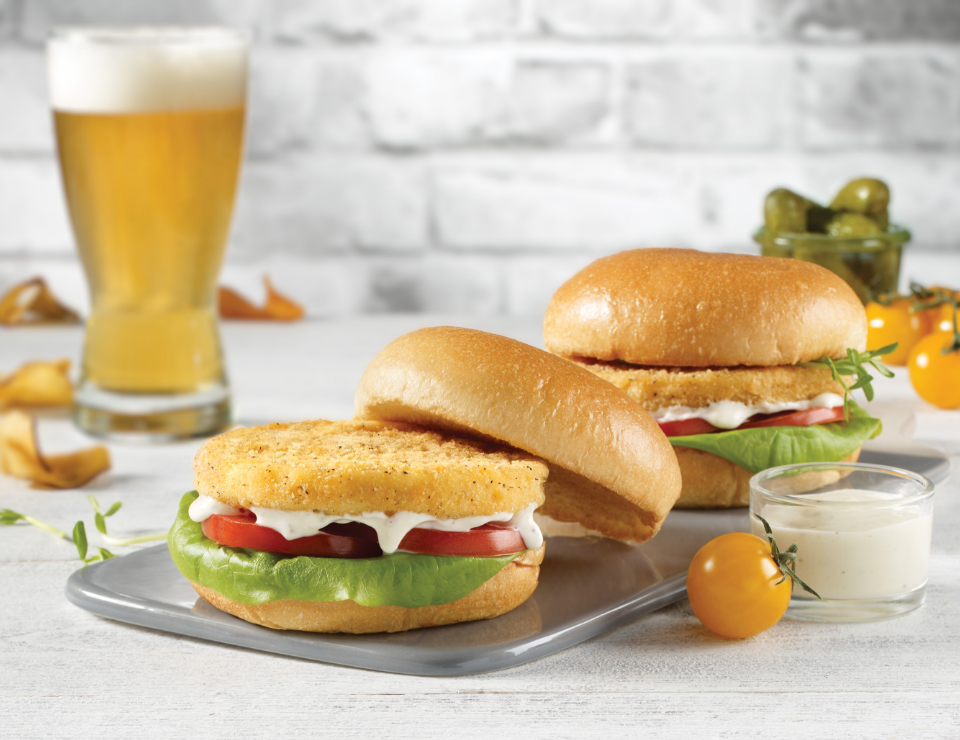 Conventional
Preheat oven to 218°C (425°F). Place frozen chicken burger in a single layer on the baking sheet. Heat for 24-28 minutes, turning over halfway through cooking time.
Air Fryer
Preheat oven to 200°C (390°F). Place frozen chicken burger in the basket. Heat for 14 minutes, turning over halfway through cooking time.
*This is only a guide. Cooking time may vary according to type and model of appliance used.